Rob ran the site www.nationalkarting.com in the early 2000. After I sent out the latest newsletter in 2015 I got this e-mail from him.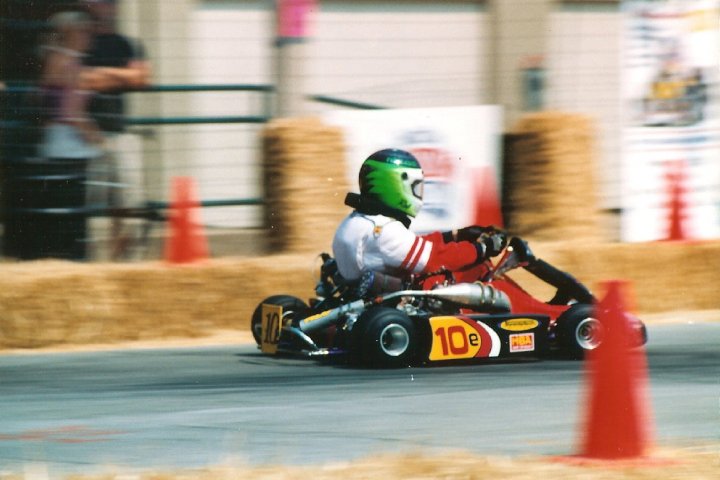 Torkel,
I wanted to thank you for the use of Tracktimer while I raced SuperPro shifterkarts in America. I haven't raced since 2003, but your Tracktimer software played a big part in helping me compete with the top drivers in America, such as Formula One driver Scott Speed.
Hope 2016 is a great year.
We hope to be racing again in the future when finances permit.
Thank you,
Rob Hogenmiller
The best programme we have ever used and could never imaging being without it now.
Any one who wants to see it being used at British Superbike just pop round for a demonstration.
You wont be without it once you try it. !!!
Gary Dawson
Team owner/Manager Repli-Cast UK Racing
Hi Torkel

Still working really well with your Tracktimer software... it's a great product!

Here's a couple of photos that may be useful to you for the website or advertising. The first is of me, with your web address on my visor, the other is Lance Isaacs, ex World Superbike rider, and one of my two riders this year who I'm running on your software.
While the whole program makes my life a hell of a lot easier, there is one particular function that makes my riders consistantly faster...the gearing calculator!!
In conjunction with accurate rider feedback for engine revs, I have been able to consistantly find an additional 0.4sec/lap for the guys, often ending up with significantly different gearing to what we would have previously run. In our championship, that extra 0.4sec is worth upto 4 places at the races end... no extra horsepower, no extra cost, no reduced reliability...performance for free!!!
Cheers
Andy Jamison
Mecer Ducati Superbike Team
Charles used to work as Formula Ford engineer with top driver Alx Danielsson, he has also helped me a lot with car setup details and general improvements of Tracktimer
Using the Tracktimer software will do nothing else but simplify the daily work of a racing team a lot, both in the pitlane and in the workshop. The timing function is really good, and the automatic update of mileage and cycles after every session makes life a lot easier. No more fussing about with lap time sheets, setup notes, part status lists and papers lost in action during a wet race; with Tracktimer everything is safely stored and both easily managed and easily accessed.
Charles Wessman
I noticed a lot of visitors coming from this thread on the WERA forum. When I saw Montys post below I had to ask him if I could quote him under my user reviews and he had no problem with that. Thanks Monty!
We used the Tracktimer software for the last 2 1/2 years and love it! I have every jet setting for every practice with all three barometric factors, every gearing set up with rear wheel speed for whatever rpm I say in whatever gear I say, every lap time with track conditions, track fuel consumption so you don't carry too much. It will even track parts mileage for you so you can know how long you've beat the hell out of that chain or how many miles you've got on those pistons. If you are looking for a tool to micro manage your racing, Tracktimer is it.
VERY useful for the GP bike crowd. It's WAY worth the money!!!
Monty Warsing
Furious Moose Motorsports
Bruce W. Robinson - Marden Racing
Marden Racing came 3rd first year out running the works Tony ProKart team in the UK National Endurance Championship in 2000.
We use a PiResearch data logging system, Alfano Pro lap timers and a selection of Aim and Casio lap timers and stopwatches.
From July last year we started using Tracktimer on an IBM Thinkpad notebook to keep track of other teams during practice and on race day. We now also use it for our own set-up and performance data and no longer use stopwatches.
Tracktimer has become a key element in our data management for 2001.
Bruce W. Robinson
Marden Racing
RACING.no had a look at Tracktimer
13/12-2000 PC-hjelp på racerbanen?
Svensken Torkel Börjeson har ikke noe stort navn innen nordisk road racing, -enda.
Han var debutant i år, og kjørte ikke spesielt fort.
Men, han kjørte nok til å skaffe seg den erfaringen han trengte for å lage et verktøy for RR-førere som kan vise seg svært nyttig for en og annen med rot i papirene.
Han har utviklet et program han kaller Tracktimer, som er ment å skulle hjelpe til med det meste på en racerbane.
Racing.no har tatt en titt på Tracktimer, og vi ble positivt overrasket.
Programmet kan hverken kjøre eller mekke på en motorsykkel, men det kan hjelpe deg med f.eks. å loggføre alle treninger, løp, sykkeloppsett, dekkoppsett, baneerfaringer, vedlikeholdsstyring og noe annet.
Vi tror at dette kan være til nytte for noen og enhver, og du kan ta en titt på produktet på www.tracktimer.com.